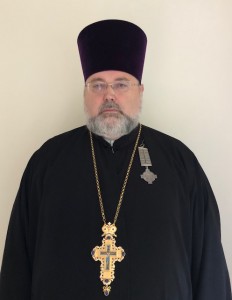 VERY REV. ARCHPRIEST IGOR TARASOV

Date of birth:  January 14, 1966
Date of priestly ordination:  January 7, 1990
Name day:  October 2
Born in 1966 in Kishinev (Chisinau), Moldova.
Graduated from high school in 1983.
Studied History and Law in Kamianets-Podilsky, Ukraine (1983-1988). Graduated from Kamiаnets-Podilsky Pedagogical Institute in 1988: Bachelor's degree in History and Law.
1988-1989: employed as a research fellow by the Academy of Sciences of Ukraine in Lviv, Ukraine.
Ordained a deacon by His Grace, Vladimir, Bishop of Kishinev and Moldova of the Russian Orthodox Church on December 24, 1989. Ordained a priest by the same bishop on January 7, 1990. Served in the cathedral in Kishinev. In February 1990 appointed Rector of St. Paraskeva's Church in Dubossari.
In 1991-1994 served on several positions as a priest in Ukraine.
1992-1994: Studied Theology at the Ivano-Frankivsk Theological and Catechetical Institute. Graduated in 1994: diploma in Theology.
In 1994 immigrated to the United States. Served in a Ukrainian parish on Long Island, New York.
1995-1996: studied Theology at the Seminary of the Immaculate Conception in Huntington, NY. Graduated in 1996: Master's degree in Theology.
1997-2001: studied Law at Touro College Law Center. Graduated in 2001: Juris Doctor. Passed Bar Exam in 2001 and admitted into practice of law in the State of New York since 2002.
In 2007 admitted to the ranks of clergy of the Patriarchal Parishes and appointed Rector of St. George Church in Bayside.
2009-2013: studied at the Theological Academy in Kiev, Ukraine. Graduated in 2013: Diploma in Theology and PhD candidacy.
In 2016 appointed Dean of the Eastern States of the Patriarchal Parishes in the USA.
From April 2017 to December 2019 served on the position of the Chancellor of the Patriarchal Parishes in the USA.
In December 2017 successfully defended a doctoral thesis and awarded a PhD in Theology.