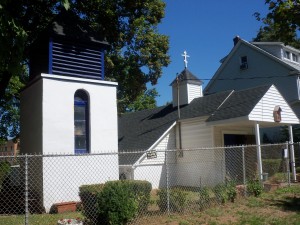 We are a community of the Orthodox Christians, a parish of the Russian Orthodox Church under the direct jurisdiction of His Holiness, Patriarch of Moscow. Our parish is one of the 35 other Patriarchal parishes in the USA. It was founded almost a century ago and all this time St. George's had been serving the spiritual needs of the Orthodox in Queens and other areas of New York.
Our temple is dedicated to the Holy Great and Victorious Martyr George, a very famous and revered Christian Saint who is known and honored in many countries over the world.
Most of our parishioners are of the Russian descent but we are open to any other people who wish to worship the true God in a true Church or who are interested in Orthodoxy.
Our services are held mostly in English and Church Slavonic language.
We gather for our services on Sundays and major holy days.
Coffee and refreshments are usually offered after our services.
We would be very glad to see you in our small but cozy place of worship.
Our address: 211-43 46th Ave, Bayside, NY 11361 (Queens) (973) 726-4229