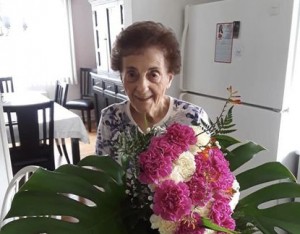 We announce with sorrow that our long-time active parishioner, Natalia (Dolores) Soho passed away last Sunday, February 23, due to a tragic incident.
As the family and the local media report, on that lovely sunny afternoon Natalia crossed Bell Blvd two blocks away from her home and two blocks from our church, and was struck by a van turning left from 48th Avenue. She was rushed into the hospital where she eventually expired. It was very unfortunate especially since lately Natalia survived a number of illnesses and recently almost recovered from all of them.
Natalia, also known as Dolores, will be remembered by St. George Parish family as a dedicated parishioner, an enthusiastic helper in all the church affairs, a cheerful giver and a very nice and sweet person.
According to the Soho family request, funeral will be held not in our parish Church, but at St. Nicholas Church in Whitestone.
Memorial service (Panikhida) will be performed on Thursday, February 27, at 7 pm at Gleason Funeral Home located at 10-25 150th St., Whitestone, NY. (Visiting hours for the wake are from 2 pm to 5 pm, and from 7 pm to 9 pm).
Burial service will be held on Friday, February 28, at 9:30 am at St. Nicholas Orthodox Church. That church is located at 14-65 Clintonville St., Whitestone, NY.
                                MAY HER MEMORY BE ETERNAL!