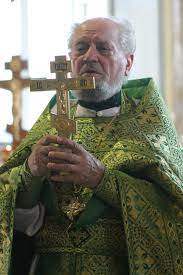 Недавно стало известно, что 22 октября 2021 г. на 86-м году жизни скончался митрофорный протоиерей Георгий Чувяков, священник, который когда-то крестил нашего настоятеля.
Прот. Георгий родился 25 января 1936 года в Украине. В 1956 году в он поступил в Одесскую духовную семинарию. В 1958 г. на Успение Божией Матери был рукоположен в диаконы патриархом Алексием І.
Позже о. Георгий приехал в Кишинев (Молдавия), где прослужил много лет. Сначала он был диаконом, а потом священником кафедрального собора в честь св. великомученика Феодора Тирона, где и крестил будущего священника Игоря Тарасова.
Отец Игорь всегда тепло вспоминает о. Георгия как хорошего пастыря, всегда радостного, веселого и приятного человека. Детство и юность о. Игоря прошли в частом присутствии на богослужениях и требах совершаемых покойным прот. Георгием.
В 1993 году о. Георгий перебрался в Россию, в город Димитровград в Симбирской епархии, где совершал своё пастырское служение в Свято-Никольском храме 25 лет. В августе 2018-го он вернулся в Молдавию, где жил последние годы.
О. Георгий служил Господу в алтаре более 60 лет и пользовался огромным уважением и любовью со стороны клира и паствы. Похоронили батюшку 25 октября в г. Кишенев за алтарем храм св. мученика Валерия. Отпевание совершил еще один добрый знакомый о. Игоря, прот. Николай Флоринский, однажды посетивший наш Святo-Георгиевскиой храм.
После того как мы узнали о кончине о. Георгия, наш настоятель совершил заупокойную литию в преддверии 40 дней после преставления крестившего его священника.
Царствие Небесное дорогому батюшке!
Просим молитв о новопреставленном протоиерее Георгие!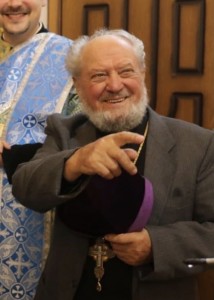 Recently it became known that on October 22, 2021, at the age of 86, Mitred Archpriest Georgе Chuviakov, the priest who once baptized our Rector, passed away.
Archpriest George was born on January 25, 1936 in Ukraine. In 1956 he entered the Odessa Theological Seminary. In 1958, on the Dormition of the Mother of God, he was ordained a deacon by Patriarch Alexy I.
Later, Fr. George came to Chisinau (Moldova), where he served for many years. At first he was a deacon, and then a priest at the Cathedral in honor of the Holy Great Martyr Theodore Tyron, where he baptized the future priest Igor Tarasov.
Fr. Igor always remembers Fr. George as a good shepherd of souls, always a joyful, cheerful and pleasant person. Much of Fr. Igor's childhood and youth was spent in a frequent presence at divine services  performed by the deceased Archpriest George.
In 1993, Fr. George moved to Russia, to the city of Dimitrovgrad in the Simbirsk diocese, where he performed his pastoral service in St. Nicholas Church for 25 years. In August 2018, he returned to Moldova, where he lived in recent years.
Fr. George served the Lord at the altar for over 60 years and enjoyed great respect and love from the clergy and of the flock. He was buried on October 25 in the city of Chisinau, behind the altar of the church of the Holy Martyr Valerius. The funeral service was performed by another good friend of Fr. Igor, Archpriest Nicholas Florinsky, who once visited our St. George Church.
After we learned about the death of Fr. George, our Rector performed the memorial Litia on Sunday, November 28, on the eve of 40 days after the repose of the priest who baptized him.
May the Lord grant Heavenly Kingdom to dear Father!
We ask for prayers for the newly-departed Archpriest George!