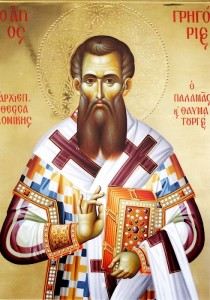 The Gospel of Mark (2, 1-12):
At that time Jesus entered Capernaum after some days, and it was heard that He was in the house. Immediately many gathered together, so that there was no longer room to receive them, not even near the door. And He preached the word to them. Then they came to Him, bringing a paralytic who was carried by four men. And when they could not come near Him because of the crowd, they uncovered the roof where He was. So when they had broken through, they let down the bed on which the paralytic was lying. When Jesus saw their faith, He said to the paralytic, "Son, your sins are forgiven you." And some of the scribes were sitting there and reasoning in their hearts, "Why does this Man speak blasphemies like this? Who can forgive sins but God alone?" But immediately, when Jesus perceived in His spirit that they reasoned thus within themselves, He said to them, "Why do you reason about these things in your hearts? Which is easier, to say to the paralytic, 'Your sins are forgiven you,' or to say, 'Arise, take up your bed and walk'? But that you may know that the Son of Man has power on earth to forgive sins"—He said to the paralytic, "I say to you, arise, take up your bed, and go to your house." Immediately he arose, took up the bed, and went out in the presence of them all, so that all were amazed and glorified God, saying, "We never saw anything like this!"

Евангелие от Марка (2,  1-12):
Во это время пришел Он в Капернаум; и слышно стало, что Он в доме. Тотчас собрались многие, так что уже и у дверей не было места; и Он говорил им слово. И пришли к Нему с расслабленным, которого несли четверо; и, не имея возможности приблизиться к Нему за многолюдством, раскрыли кровлю дома, где Он находился, и, прокопав ее, спустили постель, на которой лежал расслабленный. Иисус, видя веру их, говорит расслабленному: чадо! прощаются тебе грехи твои. Тут сидели некоторые из книжников и помышляли в сердцах своих: что Он так богохульствует? кто может прощать грехи, кроме одного Бога? Иисус, тотчас узнав духом Своим, что они так помышляют в себе, сказал им: для чего так помышляете в сердцах ваших? Что легче? сказать ли расслабленному: прощаются тебе грехи? или сказать: встань, возьми свою постель и ходи? Но чтобы вы знали, что Сын Человеческий имеет власть на земле прощать грехи,– говорит расслабленному: тебе говорю: встань, возьми постель твою и иди в дом твой. Он тотчас встал и, взяв постель, вышел перед всеми, так что все изумлялись и прославляли Бога, говоря: никогда ничего такого мы не видали.
 
Homily of the Rector, Archpriest Igor Tarasov:
Dear brothers and sisters in Christ! On the Second Sunday of Lent we read the Gospel story about healing of the paralyzed man and we honor St. Gregory Palamas, a Holy Father who lived in the 14th century. The Scripture reading of today is telling us a number of things. First of all, it is about a spiritual effort, a labor which must be performed in order to receive God's favor and to acquire salvation.
Holy Evangelist Mark tells us today that when our Lord Jesus Christ was in Capernaum and He stayed in a house, so many people gathered there to hear His teaching. Then four men came carrying a paralytic. They could not approach Jesus because of the crowd, so they uncovered the roof where He was. Then they let down the bed on which the paralytic was lying. These men took a great effort to bring their friend to Jesus, they labored to achieve that goal. And, as a result, the Lord saw their faith and healed their friend. This has to teach us that any spiritual achievement and, above all, our final salvation, requires a great work on our part.
If last Sunday we mentioned the heresies, we have to say that a great heresy of our times is to believe that salvation can be acquired without labor. Many people live with such a wrong attitude that if you are so-called "good person", you may end up in heaven without special spiritual works like penance, prayerful life or attending the church services. Positive thinking and nice attitude by themselves will not save you. They may only help you in your work, but that work must be done. Any person who did not start making spiritual efforts is like a paralytic. We are all more or less spiritually disabled, paralyzed. Only a great spiritual labor will make us healthy and successful. That labor consists of prayerful life, fasting, penance and participation in the Church life. Only these things will heal our spiritual paralysis.
Therefore, let us look at them as our four friends who may bring us to Jesus, as those four friends brought to Him the paralytic in today's Gospel. Again, those our four friends are prayer, fasting, repentance and participation in the life of the Church. It is impossible to be saved, it is impossible even to get closer to the Lord without having those four friends. May all of you look at yourselves and see whether you are friendly with those things. Very often we realize that such friendship is not always and fully maintained. But let us admit that it must be. No other force will bring us to the Lord's grace, His favor and to our salvation except the power of the spiritual works.
The Saint whom the Church wishes to honor on the Second Sunday of Lent, Holy Father Gregory Palamas, archbishop of Thessalonica, is known for his writings and teachings where he instructed that people, being subject to sin and imperfection, have a chance to become holy through the works of spirit: through prayer, fasting and penance. He also teaches that men are able to achieve a highest level of spirituality and become so holy, that he may be worthy to see the uncreated light of God, the same light the Apostles saw on Mt. Tabor when Jesus transfigured before them. Such light is from God, thus it is not created, but comes from Him. This may sound very remote from our daily life, especially if we do not practice much spirituality. But this is how much any person is able to reach if he or she will take an effort, to do the work, to perform a labor.
Dear brothers and sisters! Let today's Second Sunday of our great spiritual journey towards holy Pascha teach us to take spiritual efforts, to use help of the four friends, prayer, fasting, repentance and Church life, and to strive for achieving holiness and salvation.